TONIGHT: Join Author Daphne Palasi Adreades, PEN America & DREAMing Out Loud for a Special Zoom Event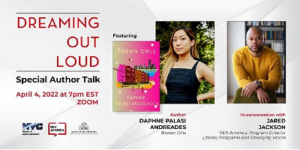 Join us tonight at 7:00 pm ET for a virtual event with Random House author Daphne Palasi Andreades in conversation with PEN America Program Director Jared Jackson about her latest book, BROWN GIRLS. Register in advance here. This special conversation is dedicated to the participants of the DREAMing Out Loud program, a writing-workshop series for undocumented students in the CUNY network. Many thanks to Random House for providing a free copy of BROWN GIRLS to each of the students.
DREAMing Out Loud is a partnership with the NYC Mayor's Office of Media and Entertainment, NYC Department of Cultural Affairs, and PEN America. Penguin Random House supports the program by facilitating professional-development opportunities for participants to engage with authors and publishing industry executives.
Daphne Palasi Andreades is the author of the debut novel, BROWN GIRLS, which follows a group of young women of color who are first and second-generation immigrants, as they come-of-age in Queens, New York—the author's hometown. BROWN GIRLS is told through a choral voice and blurs poetry and prose to explore hybrid identities and solidarity across different diasporas. Published January 2022 by Random House, BROWN GIRLS was selected as a New York Times Editor's Choice, an Indies Next Pick, and featured on 'Most Anticipated' lists in major outlets such as The Guardian, Chicago Review of Books, Electric Lit, and more.
Jared Jackson is the literary programs and Emerging Voices program director at PEN America, where he oversees and manages writing programs including the Emerging Voices Fellowship, the Dreaming Out Loud workshop series, and the Worker Writers School. Additionally, he curates PEN Out Loud, PEN America's flagship literary conversation series showcasing literary excellence and a wide range of diverse voices. Also a writer, his work has received support from the Tin House Winter Workshop and has appeared or is forthcoming in The New York Times Book Review, The Yale Review, Guernica, the Kenyon Review, and more.
Posted: April 4, 2022