Tonight: Kristen Radtke Discusses Her New Book and the Epidemic of Loneliness via Zoom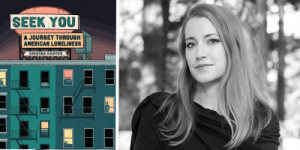 Kristen Radtke, author of SEEK YOU: A Journey Through American Loneliness (Pantheon), will be in conversation with Leslie Jamison at a virtual event hosted by the Center for Fiction (Brooklyn, NY) via Zoom tonight, Tuesday, July 6 at 6:00 pm (ET).
With many the world over stuck at home, the pandemic exposed a quieter epidemic that had already been ripping through America—the epidemic of loneliness. In emotionally charged drawings and empathetic prose, Radtke's newest book, SEEK YOU, a part of the Pantheon Graphic Library, navigates the different ways our inner lives interact with our public selves and the ways in which we attempt to feel closer to one another. Ranging from the invention of the laugh-track to the rise of Instagram, the bootstrap-pulling cowboy to the brutal experiments of Harry Harlow, Radtke investigates why we engage with each other, and what we risk when we turn away.
Radtke is also the author of the graphic nonfiction book, Imagine Wanting Only This. The recipient of a 2019 Whiting Creative Nonfiction Grant, Radtke is the art director and deputy publisher of The Believer. Her work has appeared in The New York Times, Marie Claire, The Atlantic, The Guardian, GQ, Vogue, and Oxford American, among many other publications.
!! As a reminder, if you are posting to a personal or other non-PRH account you must include the hashtag #TeamPRH !!
Posted: July 6, 2021