Tonight: Virtually Attend Literacy Partners' "I Love This Poem: A Celebrity Reading"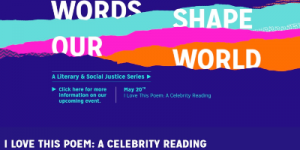 You're invited to Literacy Partners' I Love This Poem: A Celebrity Reading , the latest installment in a series of literary and social justice programs. This virtual event, hosted by One World author Mira Jacob and Zibby Owens, will be held tonight, Thursday, May 20 at 7:00 pm (ET). There will be intimate poetry readings from some of the most compelling voices in film, television, theater, and the world of books, including Common, Ethan Hawke, Tayari Jones, Kevin Kline, John Lithgow, Megha Majumdar, Dinaw Mengestu. Julianne Moore, Tommy Orange, Liev Scheiber and Cleo Wade. Join the all-star cast in support of literacy for racial justice and social progress.
Tickets are free. Please click here to RSVP and secure your spot.
Penguin Random House is a longtime supporter of Literacy Partners and through our involvement over the years we are proud to have made a difference in their ability to help low-income and immigrant families in New York and now in cities across the country. Since 1973, Literacy Partners has helped more than 25,000 adults through a two generation approach to education. With free classes, community workshops, and educational media, low-income and immigrant parents and caregivers develop literacy and language skills they need to succeed in today's world.
Click here to learn more about Literacy Partners.
Posted: May 20, 2021