Tracy Clark-Flory to Discuss Her New Book WANT ME via Crowdcast (2/18)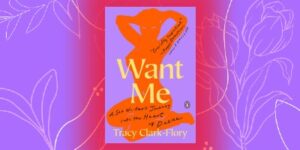 Tracy Clark-Flory will virtually discuss her new book, WANT ME: A Sex Writer's Journey into the Heart of Desire (Penguin) with Sarah Hepola at a virtual event hosted by The Strand Bookstore via Crowdcast on Thursday, February 18 at 7:00 pm (ET).
Clark-Flory grew up wedged between fizzy declarations of "girl power" and the sexualized mandates of pop culture. It was "broken glass ceilings" and Girls Gone Wild infomercials. With a vague aim toward sexual empowerment, she set out to become what men wanted–or, at least, understand it.
WANT ME is about looking for love, sex, and power as a woman in a culture that is "freer" than ever, yet defined by unprecedented pressures and enduring constraints. This is a first-hand example of one woman who navigated the mixed messages of sexual expectation, only to discover the complexity of her
Tracy Clark-Flory is a senior staff writer at Jezebel. Her work has been published in Cosmopolitan, Elle, Esquire, Marie Claire, Salon, The Guardian, Women's Health, and the yearly Best Sex Writing anthology. Prior to Jezebel, she was a senior staff writer at Salon. She has appeared on "20/20," MSNBC and NPR. Tracy lives in San Francisco with her family.
!! As a reminder, if you are posting to a personal or other non-PRH account you must include the hashtag #TeamPRH !!
Posted: February 11, 2021