TSP Author Kate Schatz on the Making of RAD GIRLS CAN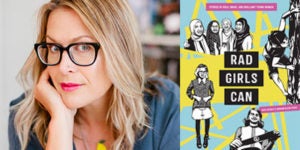 RAD GIRLS CAN: Stories of Bold, Brave, and Brilliant Young Women, published by Ten Speed Press today, July 17, is a new collection of stories and art about inspiring and accomplished girls who have made positive impacts on the world before the age of 20. This is the third book in the series by author Kate Schatz and illustrator Miriam Klein Stahl that also includes New York Times bestsellers RAD WOMEN WORLDWIDE and RAD AMERICAN WOMEN A-Z. You might know the stories of Malala Yousafzai, Anne Frank, Jazz Jennings, and Joan of Arc. But have you heard about Yusra Mardini, a Syrian refugee who swam a sinking boat to shore, saved twenty lives, then went on to compete as an Olympic swimmer? Or Trisha Prabhu, who invented an anti-cyberbullying app at age 13? Or Barbara Rose Johns, whose high school protest helped spark the civil rights movement?
In this "Meet Our Author" interview, Kate Schatz talks about the development of the idea behind the concept for RAD GIRLS CAN, how the book was created, and what elements are expected to resonate most strongly with readers.
As the third book in the RAD WOMEN series, what sparked the concept for and creation of RAD GIRLS CAN?
The idea for RAD GIRLS CAN came directly from girls themselves—and boys too, actually! Miriam and I do lots of book events for young people—school visits to elementary, middle, and high schools, public library talks, conferences and book festivals—and young people love to give us ideas for future Rad books. While their suggestions have ranged from the highly specific Rad Dogs! and Rad Women Soccer Players, the idea we heard over and over was for us to create a book about people their own age. "Can you make a book all about girls?" became such a frequent request that we knew we had to do it. Just another example of why it's so important to listen to young people!
With the focus on young women under the age of 20, how would you describe the selection, editing and design process?
It was definitely different than the process for the first two books, which were more focused on historical figures whose life stories were relatively complete, and relatively well-documented in research, academia, and popular culture. Researching the stories of girls, both historic and contemporary, has its own set of challenges. We include a lot of contemporary girls who are young and active right now—we knew that these stories would be less about biography and telling a life story, and more about conveying what the girl did or is doing to impact her world and community. To find the stories I cast my net very wide, as usual, but replied much more on social media and online platforms like Teen Vogue. I also reached out to lots of teenagers that I know and asked them: Who are you inspired by? What young people are you watching and learning from? And as for design: Miriam and I are so lucky to work again with the rad Lizzie Allen, who also designed our illustrated journal MY RAD LIFE. Lizzie is fantastic at taking Miriam's stunning papercuts and bringing in fun color and bold, dynamic design elements. Thank you, Lizzie!
What elements of RAD GIRLS CAN do you hope will resonate most strongly with readers?
I want young people of all genders to find inspiration and motivation in these stories. I want them to see examples of young people who have dreamed big and tried hard, who have been willing to take chances to achieve a goal. I hope that readers of color see themselves reflected in the diversity of girls represented, and I hope that white readers gain insight and empathy into the lives of some of the Black, brown, immigrant, Muslim, queer, disabled, and otherwise marginalized but completely rad girls that we profile. And I hope that readers of all ages are reminded that young people are powerful, smart, and have always been at the forefront of change, progress, innovation, and awesomeness.
Posted: July 17, 2018