TSP Editor-In-Chief Lorena Jones on Yotam Ottolenghi and His New "SIMPLE" Cookbook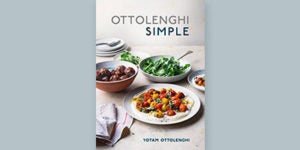 Yotam Ottolenghi, bestselling cookbook author, renowned chef and restaurant owner, has collected 130 easy, flavor-forward recipes in his new Ten Speed Press book, OTTOLENGHI SIMPLE. Featuring Ottolenghi's signature Middle Eastern–inspired flavors, all of the recipes are simple in at least (and often more than) one way: made in 30 minutes or less, with 10 or fewer ingredients, in a single pot, using pantry staples, or prepared ahead of time for deliciously simple meals.
In this special "Behind the Pages" Igloo interview, Ten Speed Press Editor-In-Chief Lorena Jones shares personal insights into Ottolenghi's singular cooking style, his impact on the American culinary landscape, the process involved when editing his books for US readers, and several of her favorite OTTOLENGHI SIMPLE recipes.
You are the editor who originally brought Ottolenghi to the states, nearly ten years ago. How has his food evolved since then?
Yotam Ottolenghi first came onto my radar when he started writing weekend columns on vegetarian cooking for The Guardian. It was the reader response to those columns that led to him write PLENTY, which published here in March 2011. At the time, readers in the UK and US were just becoming interested in eating less meat and moving vegetables to the center of the plate. There were a good number of vegetarian books for inspiration, but the majority of those interested in vegetables weren't dedicated vegetarians but rather cooks looking for recipes that showcased vegetables in new, elevated, and meal-making ways. Yotam Ottolenghi had already convinced Londoners how delicious and substantive vegetable cooking could be at his take-away Ottolenghi shops and then he spread the word internationally by writing about it regularly. Then, as now, the Middle East was in every news report and curious Western cooks had developed an expansive craving for the rich flavors, layers, and ingredients of the region's cooking. Yotam's knack for creating unexpected flavor combinations that work so well also ensured his immediate success. Over the years, Yotam has added more fish and meat to his recipe writing and incorporated other culinary influences—Malaysian, for example, which you find in his restaurant cookbook, NOPI. The biggest focus in the past few years, which is underscored in SIMPLE, is toward family meal cooking, now that he has two growing boys to feed at home.
Tell us about the impact Ottolenghi has made on the culinary landscape in America.
Yotam Ottolenghi established and fueled the vegetable-forward eating trend that has been influencing restaurant chefs, newspaper and magazine editors, and other cookbook writers—and generally changing the way we eat in the West—for the past 10 years.
While Ten Speed Press publishes Ottolenghi in the United States, the books originate in the UK. What changes are made editorially for an American home cook? Can you share the editorial process and the considerations that go into that work?
When I edit a cookbook that has originated in another country, I do the usual Americanization work—Americanizing spellings and cooking terms and equipment—and, in the case of SIMPLE, adjusting any Briticisms that Americans might not parse while preserving the Yotamisms that distinguish his voice and charm. But the real work goes into converting all the metric measurements—and verifying those conversions—while working with Yotam and his coauthor Tara Wigley to review and approve those changes. Conventionally, publishers and other North American media have used standard conversions for converting metric measures to cup and spoon measures, but those conversions are by definition imprecise because they are rounded and that imprecision magnifies as the amount of ingredient measured increases. Savory cooking recipes are forgiving enough to accommodate some of this imprecision, but Yotam has a reputation for writing delicious recipes that work so we agreed to be precise and still user-friendly in our conversions to ensure that the North American audience enjoys the same level of exactitude as does the native audience. This is why users will find compound measures (for example, 1/2 cup plus 2 Tbsp) in SIMPLE.
Have you cooked much from the book? Which are your favorite recipes so far, and why?
I have cooked more from this book than any book I've worked on in the 25 years I've been editing cookbooks! My list of favorites is long, but top of that list are:
The Lamb and Pistachio Patties with Sumac Yogurt Sauce because they're so quick to make and only use 5 ingredients (plus salt and pepper), which includes watercress and ground pistachios that you "blitz" in the food processor. I love how that reduces the amount of meat in each serving, gets some greens in, and how the ground pistachios lend rich texture and flavor while also making the patties especially filling. They reheat well, so they make a great second-work-night dinner and they are amazing in sandwiches for lunches, too. I make them twice a month now.

Other favorites are the Braised Eggs with Leek and Za'atar (calling all shakshuka lovers), Roasted Cauliflower with Green Tahini Sauce (I make a container on it Sunday and try not to use it on every single thing throughout the week), the quickly roasted tomatoes from the cover (so simple and the pop of color they add to the table is second to none), and the Spiced Apple Cake (looks spectacular and you can make it in 35 minutes with ingredients you have on hand).
Posted: October 16, 2018