Tune Into the Sold-Out All Ways Black Awards Tonight!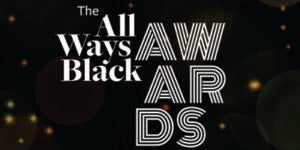 Tonight's All Ways Black Awards – Penguin Random House's virtual awards show celebrating the best in Black books – has officially sold out. But do not despair! You can still catch the event live on YouTube. Just register on Eventbrite and tune in at 8:00 pm (ET) to see who will win community-nominated awards, including Author of the Year, Bookstagrammer of the Year, Most Original Social Content, and much, much more.
Tonight's event will include guest appearances from Penguin Random House authors Nic Stone (Fast Pitch), Maurice Carlos Ruffin (The Ones Who Don't Say They Love You), Jasmine Mans (Black Girl, Call Home), Robert Jones, Jr. (The Prophets), Ayana Gray (Beasts of Prey), Vallery Lomas (Life is What You Bake It), and Danté Stewart (Shoutin' in the Fire), as well as bloggers Jamise Harper (@spinesandvines) and Traci Thomas (The Stacks podcast). It will also feature a live musical performance by two-time Grammy-winning vocalist Jamie Woods.
What: The All Ways Black Awards
When: Thursday, December 9, 8:00 pm (ET)
Where: YouTube (link available via Eventbrite)
We'll see you there!
Posted: December 9, 2021