Two Tana French Novels Adapted for DUBLIN MURDERS TV Series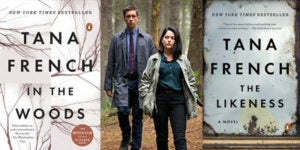 Tana French's first two novels, IN THE WOODS and THE LIKENESS (both bestsellers published by Viking/Penguin), are being adapted into an eight-episode television crime drama series, Dublin Murders, to air on Starz in 2019. Starz acquired U.S. and Canadian broadcast rights from Freemantle. Production is underway in Belfast and Dublin. Killian Scott (C.B. Strike) and Sarah Greene (Penny Dreadful) lead the cast as detectives Rob Reilly and Cassie Maddox, central characters in French's Dublin Murder Squad series.
The cast also includes Tom Vaughan-Lawlor (Avengers: Infinity War) as Frank supported by Moe Dunford (Vikings) as Sam, Leah McNamara (Vikings) as Rosalind, and Ian Kenny (Solo: A Star Wars Story) as Phelan. The lead director of Dublin Murders is Saul Dibb supported by John Hayes and Rebecca Gatward. The series was originally commissioned by BBC One in the UK for RTÉ, with support from Northern Ireland Screen.
Posted: December 6, 2018