Two Ten Speed Press Authors Win Tales of the Cocktail Spirited Awards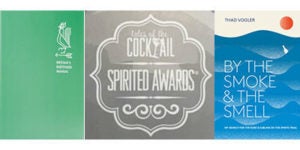 Ten Speed Press authors Jim Meehan and Thad Vogler are winners of the 2018 Tales of the Cocktail Spirited Awards in both book-related categories. The recipients of the 12th Annual Spirited Awards, considered the most prestigious accolades in the spirits world, were announced Saturday evening at the annual Tales of the Cocktail Festival in New Orleans.
Jim Meehan received the Best New Cocktail or Bartending Book award for his book, MEEHAN'S BARTENDER MANUAL. Thad Vogler was named the recipient of the Best New Book on Drinks Culture, History or Spirits for his book, BY THE SMOKE AND THE SMELL. Ten Speed is the publisher of 4 of the 8 finalists in these two categories.
Congratulations to Mr. Meehan and Mr. Vogler as well as their editors, publishers and everyone at Ten Speed Press.
The Tales of the Cocktail is a non-profit organization that educates, advances, and supports the global hospitality industry, and hosts the world's premier cocktail festival annually in New Orleans. The Spirited Awards honor the world's top bars, bartenders, writers, and cocktail experts.
Posted: July 24, 2018