Two Things That Inspired C.J. Tudor to Write Her New Thriller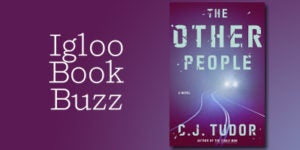 Our new Igloo Book Buzz selection is C.J. Tudor's THE OTHER PEOPLE, published by Ballantine Books. The author shares that the novel "is a story about a man searching for his daughter, a woman running to save her child and a mysterious group who want others to know the pain and loss that they do. They're people seeking justice for their loved ones when they feel it has been denied. But that sort of justice comes at a price."
"Two things inspired it, really. First, the idea that we all kid ourselves that terrible things only ever happen to other people. That we are somehow different, protected. Then, one night I was stuck in slow-moving traffic on the motorway. There was a beaten-up car in front of me and I'd been following it for a while. My mind started wandering. I wondered what would happen if a face appeared in the rear window. Perhaps someone in distress, someone being kidnapped. Then I thought: What if it was someone I knew? What if it was my own child? The story really sprang from there."
Ballantine Senior Editor Anne Speyer says, "THE OTHER PEOPLE starts with the most exciting, unforgettable opening scene of any thriller I've read in the last year, period. And somehow it just gets better from there – C. J. Tudor is a true expert at blowing your mind and I hope readers love it!"
Praise and buzz for this book continues to flow in. Here is a sampling:
"THE OTHER PEOPLE will keep you up all night, reading frantically and searching for answers. Warning: This fast-paced, engaging story is so spooky, you might need a nightlight." —HelloGiggles.com
"I read THE OTHER PEOPLE at Halloween, on a flight from New York. It was hugely enjoyable and deliciously creepy. I was hooked from its gripping opening, all the way through its many twist and turns, until I arrived in London completely unsettled and on edge. Ostensibly about a man searching for his missing daughter, it's a tale about loss, where nothing is quite as it seems; and, although you may think you've got it worked out, CJ Tudor is always several steps ahead. A brilliant storyteller." —Alex Michaelides, #1 New York Times bestselling author of The Silent Patient
"Tudor's narrative is saturated in menace, and the action once it starts ,barely lets up … Tudor skillfully weaves in poignant observations on the nature of justice and the power of grief …Dean Koontz fans, in particular, will find much to enjoy in this sinister, unsettling treat. Tudor just keeps getting better and better." —Kirkus Reviews
C.J. Tudor is also the author of The Hiding Place and The Chalk Man, which won the International Thriller Writers Award, Strand Magazine Award, and the Barry Award for Best First Novel. Over the years, she has worked as a copywriter, television presenter, voice-over artist, and dog walker. She is now thrilled to be able to write full-time, and doesn't miss chasing wet dogs through muddy fields all that much. She lives in England with her partner and daughter.
Posted: January 28, 2020