Two Writers Talking: Historical Adventures with Candice Millard & Hampton Sides via Zoom (6/10)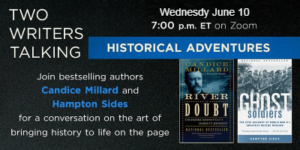 Candice Millard, author of such books as HERO OF THE EMPIRE (Doubleday/Anchor), and Hampton Sides, author of such books as ON DESPERATE GROUND (Doubleday/Anchor), are "Two Writers Talking," engaging in a conversation on the art of bringing history to life on the page via Zoom on Wednesday, June 10 at 7:00pm (ET).
At the age of twenty-four, Winston Churchill was utterly convinced it was his destiny to become prime minister of England. Millard's HERO OF THE EMPIRE spins an epic story of bravery, savagery, and chance encounters with a cast of historical characters—including Rudyard Kipling, Lord Kitchener, and Mohandas Gandhi—with whom Churchill would later share the world stage. But this book is more than an extraordinary adventure story, for the lessons Churchill took from the Boer War would profoundly affect twentieth century history.
Ms. Millard is the author of the New York Times bestsellers The River of Doubt and Destiny of the Republic. Her book Hero of the Empire was named Amazon's number one history book of 2016. She lives in Kansas City with her husband and three children.
A chronicle of the extraordinary feats of heroism by Marines called on to do the impossible during the greatest battle of the Korean War, Sides' ON DESPERATE GROUND is a superb account of this epic clash relies on years of archival research, unpublished letters, declassified documents, and interviews with scores of Marines and Koreans who survived the siege. While expertly detailing the follies of the American leaders, this book is an immediate, grunt's-eye view of history, enthralling in its narrative pace and powerful in its portrayal of what ordinary men are capable of in the most extreme circumstances.
Mr. Sides is an award-winning editor of Outside and the author of the bestselling histories On Desperate Ground, Hellhound on his Trial, Blood and Thunder and Ghost Soldiers. He lives in New Mexico with his wife, Anne, and their three sons.
!! As a reminder, if you are a PRH employee posting to a personal or other non-PRH account, you must include the hashtag #TeamPRH !! 
Posted: June 9, 2020