UNDER ONE ROOF Brings Storytellers Together in Celebration of World Pride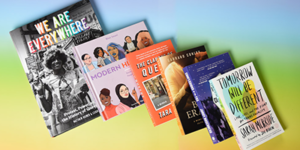 Penguin Random House hosted UNDER ONE ROOF, a live storytelling event in celebration of World Pride, on Thursday, June 13, at The Ace Hotel in New York City. The evening featured a wide spectrum of queer literature and the storytellers who reinforce the importance of publishing a diversity of voices. Filled with ebbing moments of reflection and jubilance, audience members heard from some of our leading authors in queer literature.
"When the newly formed Random House Events and Partnerships team came together in February and started brainstorming event concepts for the year, we all felt very strongly that we wanted to host an event for World Pride, bringing our authors together and amplifying their voices and stories. We also knew that we wanted our event to have a charitable component, which is why all proceeds are going to The Lambda Literary Foundation, which nurtures and advocates for LGBTQ writers," said Carly Gorga, Director of Special Events and Partnerships at Random House. "We're so appreciative to everyone who helped ideate, promote, and produce the event, and we're already looking forward to next June!"
"When the LGBTQ Network chairs met with Carly and the events team, one of the things that we discussed was what specifically Penguin Random House could bring to a pride event that no one else could. And it was immediately obvious to all of us that our writers were the answer. Our authors at PRH are our greatest asset and we knew that if we let them be the focus of the event, not only would we be able to elevate a range of voices, but we'd also be creating a truly unique pride event," said Kayla Wasil, co-chair of the Penguin Random House LGBTQ Network.
Attendees were treated to cocktails, light snacks, and Ben & Jerry's ice cream, as well as a copy of the Ten Speed Press book WE ARE EVERYWHERE by event hosts Matthew Riemer and Leighton Brown. WE ARE EVERYWHERE was the cornerstone of the event and the corresponding gallery installation at The Ace Hotel, which is running through June. A pop-up bookstore selling the featured storytellers and other Penguin Random House authors was also on display.
The evening kicked off with Riemer and Brown welcoming the audience and sharing the genesis behind the creation of WE ARE EVERYWHERE and the massively popular Instagram account @LGBT_history.
Here are highlights from the amazing series of storytellers:
Sarah McBride, author of TOMORROW WILL BE DIFFERENT and national press secretary at the Human Rights Campaign, shared her moving story. "Like many queer young people I wondered if the heart of my community was big enough to love somebody like me, and I feared that my dreams and my identity were mutually exclusive," said Sarah.
Garrad Conley, author of BOY ERASED, talked about his upbringing and experience with conversion therapy. His parting words were a call for us all to remember the queer kids who often feel alone and are without anyone who wants to reach out and help them. While Conley recognizes he was fortunate to make it out, he reiterated that not everyone is so lucky.
THE CLANCYS OF QUEENS author Tara Clancy crowdsourced to determine what story she would tell and the audience overwhelming chose to hear about Tara having her kids, which was both hilarious and heartwarming.
Blair Imani covered a range of topics from her book, MODERN HERSTORY, from being rejected 17 times before being picked up by PRH, to the reason for coming out to the world as a queer Muslim on national TV, summarized as "because I'm a Scorpio."
Karah Preiss, co-founder of Belletrist, discussed the importance of reading, especially for people who do not always have the opportunity to read about people who are like them. She expressed her gratitude to the writers, because "you give people who are gay, who are transgender, who are queer, a language to speak to people who do not understand them."
Nora Alice Demrick, co-chair of the Penguin Random House LGBTQ Network, concluded the evening by thanking everyone for being there and noted that "we all laughed, and we all cried, and those tears and that laughter is resistance."
The Author Platforms team created a short run podcast from the live event called Under One Roof: Stories of Pride, with each episode featuring one of the speakers telling their story. To listen to the podcast, click here.
Photo, video, and podcast footage of the event for everyone to enjoy are available below.
Videos:
Photos:
Posted: June 25, 2019