#UnitedStatesOfBooks: New Penguin Random House Social Campaign Celebrates America's Literary Spirit and Local History Across 50 States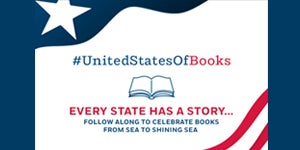 NEW YORK, NY — February 14, 2017 — Penguin Random House introduces #UnitedStatesOfBooks, a new social initiative and ReadDown book list series that celebrates, on Instagram and penguinrandomhouse.com, the literary spirit of each of the 50 states. #UnitedStatesOfBooks takes readers on a literary tour state by state, with dedicated Instagram posts that highlight a book set in each state, paired with an object that is representative of the state. Curated ReadDown book lists will offer additional reading recommendations for each state.
#UnitedStatesOfBooks kicked off in January 2017, and will run through the end of the year. The states will be presented on the site during the coming months in the order in which they joined the union, having started with Delaware, and to conclude with Hawaii. Readers are encouraged to use hashtag #UnitedStatesOfBooks on Instagram to discuss their favorite books, iconic objects, and images related to each state. Related ReadDown lists for each state can be found by swiping up on an Instagram story. The states, books, and objects that have been featured to date include:
"We invite readers to join Penguin Random House on an armchair literary tour of the #UnitedStatesOfBooks to better understand the different voices, values, perspectives, and stories that make our country a unique place," said Kristen O'Connell, Senior Director, Consumer Marketing and Social Media, at Penguin Random House. "The #UnitedStatesOfBooks is one of the many ways we are helping readers discover their next great read and engage in discussion about the world in which we live, through books, and the sharing of them on social media."
###
About Penguin Random House
Penguin Random House, the world's largest trade book publisher, is dedicated to its mission of nourishing a universal passion for reading by connecting authors and their writing with readers everywhere. The company, which employs more than 10,000 people globally, was formed on July 1, 2013, by Bertelsmann and Pearson, who own 53 percent and 47 percent, respectively. With nearly 250 independent imprints and brands on five continents, Penguin Random House comprises adult and children's fiction and nonfiction print and digital English- and Spanish-language trade book publishing businesses in more than 20 countries worldwide. With over 15,000 new titles, and close to 800 million print, audio and eBooks sold annually, Penguin Random House's publishing lists include more than 60 Nobel Prize laureates and hundreds of the world's most widely read authors.
Posted: February 13, 2017