V. S. Naipaul: August 17, 1932—August 11, 2018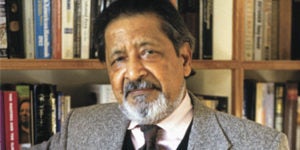 We are sad to report the passing of V.S. Naipaul, who died late Saturday at his home in London. He was 85.
Naipaul's long association with Alfred A. Knopf began in 1970, when the house published THE LOSS OF EL DORADO. Robert Gottlieb, who was head of Knopf at the time, was his editor. Later, Naipaul was also edited by Sonny Mehta, Knopf's current Editor in Chief and Chairman of the Knopf Doubleday Group, and by George Andreou, who left Knopf last August after 27 years to become the director of Harvard University Press. In all, twenty-one of Naipaul's books were published by Knopf. The last, THE MASQUE OF AFRICA, came out in 2010. Naipaul was awarded the Nobel Prize in Literature in 2001.
Posted: August 14, 2018