Valarie Kaur In Conversation with Chris Jackson at One World Ideas x Action Book Club via Zoom (1/7)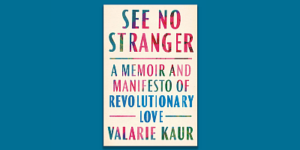 Join Valarie Kaur, civil rights lawyer, award-winning filmmaker, founder of The Revolutionary Love Project, and author of SEE NO STRANGER: A Memoir and Manifesto of Revolutonary Love (One World), in conversation with One World editor-in-chief Chris Jackson at a One World Ideas x Action Book Club event via Zoom on Thursday, January 7 at 8:00 pm (ET). Together they will explore how we, as individuals and as a nation, can begin the labor of reckoning, reimagining, and healing our nation. We each have a role to play and we will only succeed if we choose to show up with love.
This One World Ideas x Action Book Club event is an opportunity for readers to come together and discuss Valarie Kaur's book and their thoughts on activism, awakening, and the possibility of reclaiming love as an active, public, and revolutionary force. For those who have not had a chance to read SEE NO STRANGER, watch Valarie's conversation with CNN's Van Jones and Chris Jackson as a quick refresher.
One World is partnering with the Revolutionary Love Project and their new initiative, the People's Inauguration. Scheduled for January 21, this massive, collective moment will bring together people from all walks of life to recommit to each other and the project of building a multiracial, multicultural nation. Details can be found here.
The One World Ideas x Action Book Club asks readers to reflect on how we can transform the spirit and ideals of these texts into actionable change in the real world.
!! As a reminder, if you are posting to a personal or other non-PRH account you must include the hashtag #TeamPRH !!
Posted: January 5, 2021