Veronica Chambers and Rachelle Baker to Present SHIRLEY CHISHOLM IS A VERB via Zoom (9/26)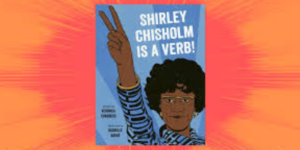 Author Veronica Chambers and illustrator Rachelle Baker will present SHIRLEY CHISHOLM IS A VERB (Dial Books for Young Readers) at a virtual event hosted by Greenlight Bookstore Story Time via Zoom on Saturday, September 26 at 11:30 am (ET).
SHIRLEY CHISHOLM IS A VERB is timely picture book biography about the first Black woman in Congress, who sought the Democratic nomination to be the president of the United States. Shirley Chisholm famously said, "If they don't give you a seat at the table, bring a folding chair." This biography illuminates how Chisholm was a doer, an active and vocal participant in our nation's democracy, and a force to be reckoned with. Now young readers will learn about her early years, her time in Congress, her presidential bid and how her actions left a lasting legacy that continues to inspire, uplift, and instruct.
Veronica Chambers is a prolific author, best known for her critically acclaimed memoir Mama's Girl. She coauthored the award-winning memoir Yes, Chef with chef Marcus Samuelsson, as well as Samuelsson's young-adult memoir Make It Messy, and has collaborated on four New York Times bestsellers, most recently 32 Yolks, which she co-wrote with chef Eric Ripert. She has been a senior editor at the New York Times Magazine, Newsweek, and Glamour. Born in Panama and raised in Brooklyn, she writes often about her Afro-Latina heritage. She speaks, reads, and writes Spanish, but she is truly fluent in Spanglish. She is currently a John S. Knight journalism fellow at Stanford University. She is also the author of The Go-Between.
!! As a reminder, if you are posting to a personal or other non-PRH account you must include the hashtag #TeamPRH !!
Posted: September 24, 2020