Victoria Schade Talks About Dogs and WHO RESCUED WHO on Instagram Live (4/10)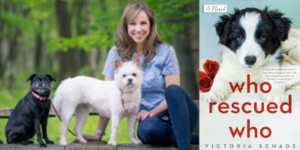 Professional dog trainer and novelist Victoria Schade will answer reader questions and talk about her new book WHO RESCUED WHO (Berkley). She will also feature her own dogs and offer training tips on "Live with Doylestown Bookshop" on Instagram Live (@doylestownbookshop, @victoria_schade), Friday, April 10 at 2:00pm (ET).
Where can you turn when the world turns against you? In WHO RESCUED WHO, when Elizabeth Barnes' life fell apart she never imagined that she'd be rescued by a new friend on four paws.
Victoria Schade is a dog trainer and speaker who serves as a dog resource for the media, and has worked both in front of and behind the camera on Animal Planet, as a co-host on the program Faithful Friends and as a trainer and wrangler on the channel's popular Puppy Bowl specials. She lives in Pennsylvania with her husband, her dogs Millie and Olive, and the occasional foster pup.
!!A reminder for PRH employees: If you are posting this article to a personal or other non-PRH account you must include the hashtag #TeamPRH.!!
Posted: April 9, 2020