Victoria Ying and Max Brallier Featured on San Diego Comic-Con Panel via YouTube (7/24)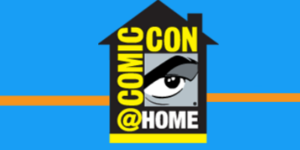 Victoria Ying, author of CITY OF SECRETS (Viking Books for Young Readers), and Max Brallier, author of THE LAST KIDS ON EARTH: June's Wild Flight (Viking Books for Young Readers), will be part of the San Diego Comic Con panel, Your Secret Weapon: How Friendship Saves the Day, via YouTube on Friday, July 14 at 5:00 pm (ET).
Ying's CITY OF SECRETS is a steam punk edge-of-your seat fantasy middle-grade thriller.
Raised in California, Victoria Ying is an author and illustrator of beloved children's books. She realized that she had a true eye for detail when she fell in loves with comic books when she was a teenager. This interest in comics led her to a successful career in animation. Her credits include Tangled, Wreck it Ralph, Frozen, Paperman, Big Hero 6, and Moana.
Brallier's Last Kids on Earth series presents June Del Toro in her very own adventure. Told from June's point of view–and set between the shattering events of The Midnight Blade and the upcoming 6th book in the series—June's Wild Flight brings new characters, high-stakes action, and stunning revelations in an adventure that could only be June's.
Max Brallier is the New York Times bestselling author of more than thirty books and games, including the Last Kids on Earth series. He writes both children's books and adult books, including the Galactic Hot Dogs series and the pick-your-own-path adventure series Can YOU Survive the Zombie Apocalypse? He has also written books for properties including Adventure Time, Regular Show, Steven Universe, Uncle Grandpa, and Poptropica.
!! As a reminder, if you are posting to a personal or other non-PRH account you must include the hashtag #TeamPRH !!
Posted: July 23, 2020