Video + Photos: Goddard Riverside's Book Fair Gala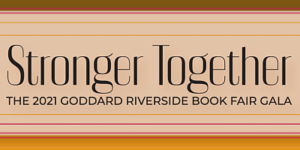 Last month, publishing colleagues and donors gathered to celebrate Goddard Riverside's annual book fair gala, Stronger Together, which took place at Monarch Rooftop in Midtown Manhattan. (Proof of vaccination was required to attend.)
The event was hosted by Grace Angela Henry, the voice actor lending her talent to audio books, films, and nonprofit galas and auctions.
At the Gala, Children Under Fire: An American Crisis, published by Ecco, and Pura's Cuentos: How Pura Belpré Reshaped Libraries with Her Stories, published by Harry N. Abrams, won Goddard Riverside's 2021 social justice book prizes.
Highlights of the gala can be seen here: Goddard, Isaacs Center Gatherings Celebrate the Power of Community | Goddard Riverside
The journal and more photos from the event can be seen here: Goddard Gala | Goddard Riverside
Penguin Random House is proud to support Goddard's work to create a fair and just society where all people have the opportunity to make choices that lead to better lives for themselves and their families. Throughout the pandemic, all of Goddard's programs remained open, with some pivoting to online services and others remaining in person.
To learn more about Goddard Riverside please click here.
Posted: November 10, 2021