VIDEO: PRH Employees' Children Talking About Our Company Story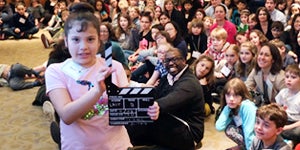 To coincide with Penguin Random House's annual Take Our Children to Work Day on Thursday, April 27, our Corporate Communications and Kid's Day teams created a light-hearted, informal, "handmade" video of our employees' children reading or reciting lines from our Penguin Random House company story. It outlines who we are, what we do, and why we do it. Employees from all three of our New York office locations participated in this fun project that further reminds everyone why our workplace is so special.
The team also created a second video featuring our colleagues' children sharing their favorite books and their personal thoughts on why they love reading.
Many thanks to all of our colleagues and their children for their contribution to this project!
Posted: May 16, 2017