Viking Publishes Chanel Miller's KNOW MY NAME, "60 Minutes" Leads Major Media Coverage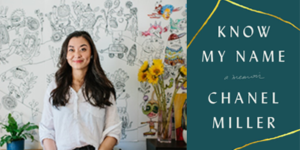 With the publication of KNOW MY NAME by Viking, "Emily Doe," the victim of sexual assault behind a Stanford fraternity dumpster in January 2015, emerges under her real name, Chanel Miller, to share the full story of her trauma and recovery. Emotionally honest, unwavering, powerful, and eloquent, Ms. Miller's memoir is a testament to the power of words to heal and effect change.
The media attention for Chanel Miller and KNOW MY NAME has been extensive:
60 Minutes featured an in-depth, 27-minute two segment interview with Miller on Sunday night. The full story, plus additional footage, can be viewed here. The pick-up of the 60 Minutes appearance was widespread. NBC News, Fox News, USA Today, Jezebel, Cosmo, New York Post, Daily Mail, Yahoo, People, Oxygen, Huffington Post, Cosmo and many more outlets have pieces reporting on the 60 Minutes story.
A New York Times profile of Miller was on the cover of Monday's Arts section and featured in the Monday NYT newsletter.
People.com debuted a beautiful video written and illustrated by Miller, along with a sneak peek at the magazine's first serial coming in Wednesday's issue.
Reviews continue to flow in. Praise from The New York Times: "KNOW MY NAME is a beautifully written, powerful, important story. It marks the debut of a gifted young writer. It deserves a wide audience — but it especially deserves to be read by the next generation of young men, the could-be Brocks and Elliots, who have grown up seeing women's bodies as property to plunder, who believe that sex is their right." NPR says, "Miller is an extraordinary writer: plain, precise, and moving." The Washington Post raves, "KNOW MY NAME is a gut-punch, and in the end, somehow, also blessedly hopeful…She implores us, too, to challenge and question the systems that aren't working. As we examine how to prevent and prosecute sexual assault cases, this last lesson may be the most important of all." New York Magazine's The Cut: "In giving us the gift of knowing her, Miller has written a singular testament to the human cost of sexual violence, and a powerful reminder of why we fight."
KNOW MY NAME charts a new path for victims: Embracing vulnerability, refusing to back down, and courageously challenging corrosive systems to live a full and beautiful life. No longer Emily Doe, Chanel Miller reclaims her identity to let victims know they are never alone and gives them the confidence to be free of the shame that was never theirs to carry.
Posted: September 24, 2019