Viking to Publish Biography of George Floyd by Prize-Winning Washington Post Reporters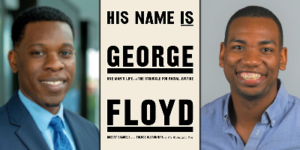 Viking announced HIS NAME IS GEORGE FLOYD: One Man's Life and The Struggle for Racial Justice, a biography by two prizewinning Washington Post reporters, Robert Samuels and Toluse Olorunnipa, will be published on May 17, 2022. Executive Editor Ibrahim Ahmad at Viking acquired North American rights from Karen Brailsford and Todd Shuster at Aevitas Creative Management.
Placing his narrative within the larger context of America's deeply troubled history of institutional racism, this new book will reveal how systemic racism shaped George Floyd's life and legacy—from his family's roots in the tobacco fields of North Carolina, to ongoing inequality in housing, education, health care, criminal justice, and policing—telling the singular story of how one man's tragic experience brought about a global movement of change.
The events of that day are now tragically familiar: on May 25, 2020, George Floyd became the latest Black person to die at the hands of the police, murdered outside of a Minneapolis convenience store by white officer Derek Chauvin. The video recording of his death set off a series of protests in the United States and around the world, awakening millions to the dire need for reimagining this country's broken systems of policing. But behind a face that would be graffitied onto countless murals, and a name that has become synonymous with civil rights, there is the reality of one man's stolen life: a life beset by suffocating systemic pressures that ultimately proved inescapable.
This biography of George Floyd shows the athletic young boy raised in the projects of Houston's Third Ward who would become a father, a partner, a friend, and a man constantly in search of a better life. In retracing Floyd's story, Samuels and Olorunnipa bring to light the determination Floyd carried as he faced the relentless struggle to survive as a Black man in America.
Developed out of The Washington Post's award-winning six-part series "George Floyd's America," HIS NAME IS GEORGE FLOYD examines the Floyd family's roots in slavery and sharecropping, the segregation of his Houston schools, the overpolicing of his communities, the devastating snares of the prison system, and his attempts to break free from drug dependence—putting today's inequality into uniquely human terms. Drawing upon hundreds of interviews and extensive original reporting, Samuels and Olorunnipa offer a poignant exploration of George Floyd's life and lasting impact, revealing how a man who simply wanted to breathe ended up touching the world.
Samuels says, "When we first set out on this reporting journey, we told George Floyd's friends and family that our mission was to understand his soul. And in trying to understand George Floyd's life, we learned about a man who was complicated, loving, ambitious—someone who never gave up on a dream to make a difference in this world, despite the barriers that stood in his way. We are thrilled to introduce readers to the person we got to know and to illustrate what his life and legacy can teach us about race, racism, and the pursuit of the American dream."
Olorunnipa says, "George Floyd's gruesome, videotaped death changed the world, as millions were moved by the raw humanity of a dying man pleading for air. As we've examined his life over the past year, we've learned how his struggle to exhale as a Black man in America began decades before a police officer's knee landed on his neck. We are excited to work with Viking to tell that story, revealing both a life that mattered and the systems that so tragically denied its worth."
Brian Tart, President and Publisher of Viking, says, "We are honored to partner with The Washington Post and their reporters, Robert Samuels and Toluse Olorunnipa, to tell one of the most important stories of our generation—the sometimes hidden but always devastating effect of systemic racism on the individual."
Robert Samuels is a national political enterprise reporter for The Washington Post who focuses on the intersection of politics, policy, and people. He previously told stories about life in the District for the Post's social issues team. Samuels joined the Post in 2011 after spending nearly five years working at the Miami Herald.
Toluse Olorunnipa is a political enterprise and investigations reporter for The Washington Post. He joined the Post in 2019 and previously covered the White House. Before that, he spent five years at Bloomberg News, where he reported on politics and policy from Washington and Florida. Olorunnipa is also an on-air contributor to CNN.
Posted: November 11, 2021