Viking's Paul Slovak and Author Amor Towles on A GENTLEMAN IN MOSCOW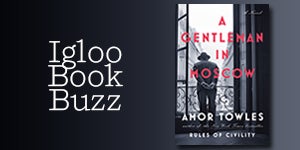 This week's Igloo Book Buzz title, A GENTLEMAN IN MOSCOW, published by Viking on Tuesday (9/6), is a transporting novel about a man who is ordered to spend the rest of his life inside a luxury hotel. The book's author, Amor Towles, and Paul Slovak, Vice President, Executive Editor, Viking, offer fascinating insights into the creation of this remarkable book.
Amor Towles: "When RULES OF CIVILITY came out in 2011 and Viking contracted to publish my second novel, I wasn't sure what my second novel was going to be. At the time, I shared with my editor, Paul Slovak, a number of different ideas and he encouraged me to go with my instincts. So, I did just that; and without much of a rationale, I chose to pursue the rather odd premise (that I had come up with some years before) of a Russian aristocrat living under house arrest in Moscow a luxury hotel.
"In retrospect, I see that my choice was probably influenced by an unconscious desire for change and the resulting artistic challenges that change presents–because RULES OF CIVILITY and A GENTLEMAN IN MOSCOW are a study in contrasts. Where the former takes place over a single year, the latter spans thirty-two. Where the former roves across a city, the latter takes place in one building. Where the former is from the perspective of a young working class woman on the rise, the latter is from the perspective of an aging gentleman who has lost everything. And where the former is virtually free of children and parents, the latter is very much concerned with generational relationships. One last difference is that A GENTLEMAN IN MOSCOW is much longer than RULES OF CIVILITY; but it has the same cover price, so you get 50% more words for your money!
"Recently, Viking/Penguin contracted to publish my next two novels and I couldn't be more thrilled. During the publication of RULES, I had the pleasure of meeting a wide variety of Viking/Penguin people in New York and across the country. To a person I found them professional, friendly, and devoted to books. When Penguin and Random House merged, to be honest, I felt a moment of trepidation. But I needn't have worried. The majority of the people I worked with on RULES have been a part of the team launching A GENTLEMAN IN MOSCOW; and we have the added benefit of some fabulous new team members thanks to the merger. And, yes, Lydia Hirt has dragged me to the gates of social media and pushed me in; so there's that, too.
"In a few days, I will be leaving New York for almost two months on the road, thanks to the publicity team. Would I prefer to stay at home and watch Netflix? Yes. But I figure if I'm going to spend four years writing a book, I should be willing to spend a year helping it find its audience. While I will not be able to start writing my next novel until I've finished touring, I have been developing several ideas in some detail. As to which idea I'll pursue, I expect I'll once again take Paul's advice and follow my instincts."
When asked, "What was it that enabled Amor to create such a vivid fictional world in his new novel?" Paul Slovak responded, "To put it simply, it is because he is an exquisite storyteller with a dazzling imagination, a writer of great artistry, sophistication, and elegance who excels on every level.  What both RULES and GENTLEMAN share, and what makes Amor such a captivating and talented writer, and a joy to work with, are finely drawn, unforgettable characters who practically leap off the page; sharp, utterly memorable dialogue; vivid scene setting; splendid atmosphere; precise observations of manners, refinement, and taste; and a flawless command of voice, style, and structure, all of which make for the most completely pleasurable reading experience.  But Amor is also a writer who likes to set new challenges for himself; with GENTLEMAN, it wasn't just tackling an entirely different setting, time period, and narrative voice, but the whole notion of trapping his main character, and his readers, inside a single building for thirty-two years – how do you make such a confined life interesting, and fulfilling?  Amor pulls it off brilliantly, and impressively.  Above all, he has a deep understanding of human nature, and an unparalleled ability to get inside his characters' minds and hearts and to transmit that to the page in the most memorable and magical of ways."
Meredith Burks, Manager, Publicity, Viking/Penguin, provides an overview of the publicity campaign for A GENTLEMAN IN MOSCOW:
"We have an incredible media lineup that's already started to roll out. GENTLEMAN IN MOSCOW has appeared in Town & Country, Conde Nast Traveler, Vanity Fair, Esquire, Marie Claire, Virtuoso Life, and DuJour Magazine's September issues. O, The Oprah Magazine will include the book in its October issue. Amor will be profiled in The Wall Street Journal's Fall Books Preview, and The New York Times' "What I Love" column, and interviewed by Lynn Neary for NPR's Morning Edition, and PBS-TV's Well Read. We have reviews confirmed in theNew York Times Book Review, Washington Post, USA Today, Chicago Tribune, Refinery29, The Millions, NRP.org, and more regional print and online outlets.   Amor will launch the book with an event at the Upper East Side Barnes & Noble in New York and set out on a national tour with over 30 events in 26 cities."
A sampling of praise for A GENTLEMAN IN MOSCOW:
"The same gorgeous, layered richness that marked Towles' debut, RULES OF CIVILITY, shapes this novel about an early-20th-century Russian count sentenced by a Bolshevik tribunal to spend the rest of his life in Moscow's Metropol Hotel." —Entertainment Weekly
"House arrest has never been so charming as in Towles's second novel, an engaging 30-year saga set almost entirely inside the Metropol, Moscow's most luxurious hotel…empathetic, and entertaining." —Publishers Weekly
"The book moves briskly from one crisp scene to the next, and ultimately casts a spell as captivating as RULES OF CIVILITY, a book that inhales you into its seductively Gatsby-esque universe."—Town & Country
"In all ways a great novel, a nonstop pleasure brimming with charm, personal wisdom, and philosophic insight . . . this book more than fulfills the promise of Towles' stylish debut, RULES OF CIVILITY." —Kirkus Reviews (starred)
"As urbane, cultured, and honey-smooth as the Count himself, even as his situation inevitably creates suspense, this enthralling work is highly recommended." —Library Journal (starred)
Posted: September 6, 2016