Vintage Author Allegra Hyde to Discuss Her Tale of Utopian Yearning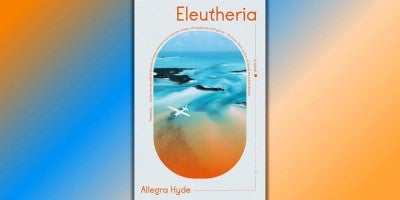 Vintage author Allegra Hyde will celebrate the launch of her debut novel, ELEUTHERIA, in conversation with Doubleday/Anchor author CJ Hauser at a virtual event hosted by Brooklyn's Community Bookstore via Zoom on Tuesday, March 8 at 7:30 pm (ET).
To register for this event, click here.
ELEUTHERIA tells the story of idealism, activism, and systemic corruption, centered on a naïve young woman's quest for agency in a world ravaged by climate change.
Willa Marks has spent her whole life choosing hope. She chooses hope over her parents' paranoid conspiracy theories, over her dead-end job, over the rising ocean levels. And when she meets Sylvia Gill, renowned Harvard professor, she feels she's found the justification of that hope. Sylvia is the woman-in-black: the only person smart and sharp enough to compel the world to action. But when Sylvia betrays her, Willa fears she has lost hope forever.
And then she finds a book in Sylvia's library: a guide to fighting climate change called Living the Solution. Inspired by its message and with nothing to lose, Willa flies to the island of Eleutheria in the Bahamas to join the author and his group of ecowarriors at Camp Hope.
Allegra Hyde's debut story collection, Of This New World, won the John Simmons Short Fiction Award through the Iowa Short Fiction Award Series. Her stories and essays have appeared in The Pushcart Prize, Best of the Net, The Best Small Fictions, and The Best American Travel Writing. Originally from New Hampshire, she currently lives in Ohio and teaches at Oberlin College.
!! A reminder: You can share this feature. If you are posting to a personal or other non-PRH account you must include the hashtag #TeamPRH !!
Posted: March 7, 2022