Vintage Author Mary Beth Norton Wins 2021 George Washington Prize for "1774"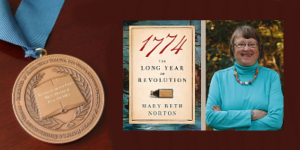 The 2021 George Washington Prize has been awarded to Mary Beth Norton for her book 1774: The Long Year of Revolution, published by Vintage. This annual award recognizes the past year's best works on the nation's founding era, especially those that have the potential to advance a broad public understanding of early American history.
"1774" tells the story of the sixteen months that separated the destruction of the East India Company tea in Boston Harbor to the marching of troops to Lexington and Concord. Readers are able to experience the uncertainty and unpredictability of this revolutionary moment. "As I explain in the book, I have long thought that historians have unfortunately overlooked crucial developments in that year just prior to the outbreak of war," wrote Norton after learning she had won the George Washington Prize. "It was in fact then – and not before – when many Americans decided that seeking independence would be desirable. Tracing precisely how that happened proved enlightening to me and I hope it will be the same for readers of the book."
Doug Bradburn, president and CEO of George Washington's Mount Vernon, congratulates Norton: "While Americans today are as fixated as ever on questions about our formative history, the George Washington Prize continues to deliver exceptional examples of great new scholarship on our revolutionary origin story. Mary Beth Norton's '1774' masterfully persuades us that the causes of the revolution were complicated, contested, and truly transformational—a tremendous book and a worthy laureate."
President of the Gilder Lehrman Institute of American History, James Basker, praises the winner: "For the student of history and for the general reader, Mary Beth Norton's '1774' will radically challenge the traditional view of the American Revolution — and it is a wonderful read!"
We congratulate Dr. Norton, her editor and the entire Vintage team.
There will be a reception honoring Mary Beth Norton next spring at Mount Vernon.
Posted: October 1, 2021