Vintage Author Sandra Cisneros Wins PEN/Nabokov Award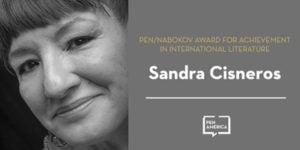 Sandra Cisneros, a celebrated Mexican American novelist, poet and short story writer whose Vintage books include THE HOUSE ON MANGO STREET, WOMAN HOLLERING CREEK and MY WICKED WICKED WAYS, has won the PEN/Nabokov Award for Achievement in International Literature. PEN America Literary Awards program director Nadxieli Nieto credited Cisneros with "inspiring a new era of Latinx writers we see emerging today," and noted, "A focus on cross-cultural dialogue, translation and international literature has long been at the heart of PEN America's Literary Awards program, and it is especially fitting that a binational writer with such an impressive and lyrical body of work is the PEN/Nabokov honoree this year. We are immensely honored to present this award to Sandra Cisneros." She will receive her award on February 26 at the 2019 PEN America Literary Awards Ceremony in New York City.
The PEN/Nabokov Award comes with a $50,000 cash prize. Cisneros, who currently lives in the Mexican town of San Miguel de Allende, told the Los Angeles Times that she is planning to use the money to buy a house for her employees. "I'm so happy to be able to do this," she said. "I just love them, and they are my family here, my spiritual family, and I always wanted to buy them a house and now I can."
Her classic, coming-of-age novel, THE HOUSE ON MANGO STREET, was inspired in part by her upbringing in Chicago, where she was born in 1954. Since the book was first published in 1984, it has sold more than six million copies, been translated into over twenty languages, and is required reading in elementary, high school, and universities across the nation.
The PEN/Nabokov Award, a collaboration between PEN America and the Vladimir Nabokov Literary Foundation, is given each year to "a living author whose body of work, either written in or translated into English, represents the highest level of achievement in fiction, nonfiction, poetry, and/or drama, and is of enduring originality and consummate craftsmanship."
Posted: February 14, 2019