Vintage Author Tao Lin to Discuss His New Novel Virtually With Tommy Orange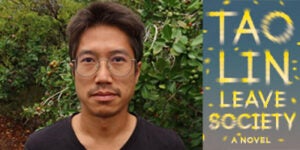 Tao Lin, author of LEAVE SOCIETY (Vintage Original), will be in conversation with Knopf/Vintage author Tommy Orange at a virtual event hosted by The Booksmith (San Francisco, CA) on Tuesday, August 10 at 10:00 pm (ET). To register, click here. 
From the acclaimed author of Taipei, LEAVE SOCIETY is a bold portrait of a writer working to balance all his lives—artist, son, loner—as he spins the ordinary into something monumental.
It's 2014 as the book's narrative begins and a novelist named Li leaves Manhattan to visit his parents in Taipei. He doesn't know it yet, but his life will begin to deepen and complexify on this trip. As he flies between these two worlds – year by year, over four years – he will flit in and out of optimism, despair, loneliness, sanity, bouts of chronic pain, and drafts of a new book. He will incite and temper arguments, uncover secrets about nature and history, and try to understand how to live a meaningful life as an artist and a son. But how to fit these pieces of his life together? Where to begin? Or should he leave society altogether?
Exploring everyday events and scenes – waiting rooms, dog walks, family meals – while investigatively venturing to the edges of society, where culture dissolves into mystery, Lin shows what it is to write a novel in real time. Illuminating and deeply felt, as it builds toward a stunning, if unexpected, romance, LEAVE SOCIETY is a fascinating story about life and art at the end of history.
Mr. Lin is the author of the memoir Trip, the novels Taipei and Richard Yates and Eeeee Eee Eeee, the novella Shoplifting from American Apparel, the story collection Bed, and the poetry collections Cognitive-Behavioral Therapy and you are a little bit happier than i am. He was born in Virginia, has taught in Sarah Lawrence College's MFA program, and is the founder and editor of Muumuu House.
Posted: August 9, 2021