Vintage Español to Publish New Michael Wolff Book in Spanish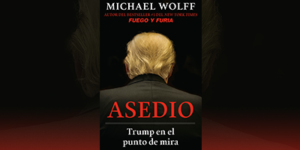 Vintage Español will publish the Spanish-language edition of Michael Wolff's upcoming book, SIEGE: Trump Under Fire (ASEDIO: Trump en el punto de mira), releasing the Spanish-language eBook edition on June 4, and the Spanish-language trade paperback original as well as the audio edition in Spanish on June 11.
With his #1 bestseller, FIRE AND FURY ( published as FUEGO Y FURIA by Vintage Español in 2018), Wolff defined the first phase of the 45th President of the United States' administration; now, in SIEGE (ASEDIO), he has written an equally explosive book about a presidency that is under fire from almost every side. The narrative begins just as Trump's second year as president is getting underway, and ends with the delivery of the Mueller report.
Posted: May 16, 2019