Vintage Gives Carolina De Robertis' RADICAL HOPE to 11,000 Libraries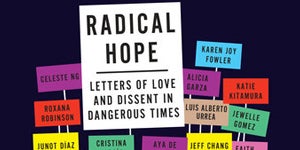 Giving hope is what inspired author Carolina De Robertis to create RADICAL HOPE: Letters of Love and Dissent in Dangerous Times, and what inspired Vintage Books and Penguin Random House to gift a copy of the book to 11,000 public libraries across America. 
RADICAL HOPE is a collection of letters—to ancestors, to children five generations from now, to strangers in grocery lines, to any and all who feel weary and discouraged—written by award-winning novelists, poets, political thinkers, and activists.  Provocative and inspiring, RADICAL HOPE offers readers a kaleidoscopic view of the love and courage needed to navigate this time of upheaval, uncertainty, and fear.  The book's letter-writers include such Penguin Random House authors as Junot Díaz, Karen Joy Fowler, Hari Kunzru, Celeste Ng, and Jane Smiley.
ALA President Julie Todaro said, "(RADICAL HOPE) offers unique messages from extraordinary authors. It provides us with much needed, uplifting thoughts for these difficult times. I thank Vintage Books and the author for their gift to American Libraries."
Ms. De Robertis: "I'm incredibly moved and honored to know that this book will be reaching so many library shelves. This is a gift given to institutions – namely, libraries – that themselves give boundlessly to our communities and to our culture. My wildest hope would be that library patrons find some form of solace, spark, or sustenance in these pages and in the kaleidoscopic voices found therein."
Penguin Random House Library Marketing also partnered with the Office for Diversity, Literacy and Outreach Services to distribute an additional 1,000 copies to American Library Association members from the five ethnic affiliates of ALA, including the American Indian Library Association, Asian Pacific American Librarians Association, Black Caucus of the American Library Association, Chinese American Library Association, and REFORMA: The National Association to Promote Library and Information Services to Latinos and the Spanish-Speaking.
Posted: May 23, 2017