Vintage Publishes New E L James Novel THE MISTER Today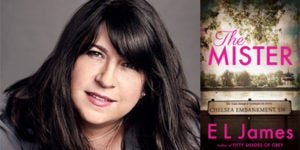 E L James's new novel, THE MISTER, on sale from Vintage today, April 16, launches with a million-copy first printing. The first novel from Ms. James following the record-breaking success of her #1 bestselling FIFTY SHADES trilogy (150 million copies sold worldwide), THE MISTER is a contemporary romance set in London, Cornwall, and Eastern Europe that introduces readers to the privileged and aristocratic young Englishman Maxim Trevelyan and the mysterious, talented, and beautiful Alessia Demachi, who's recently arrived in London owning little more than a dangerous and troublesome past. THE MISTER is also available in Spanish and as an audiobook.
Interviews with E L James are featured in The New York Times, Entertainment Weekly, Newsday and USA Today. Her TV interviews include The TODAY Show (two-part interview, 4/16, 8:00 am hour and 10:00 am hour), Access Live and Access Hollywood (4/16), WNYW's Good Day NY (4/17), and The View (4/30).
E L James will be embarking on a major tour to promote the book at eleven events across the United States, including a headlining speaking engagement at BookCon (6/1). She will also be making stops in Long Island (NY, 4/15), New Jersey (4/16), Connecticut (4/17), Manhattan (4/18), Miami (5/1), Lexington (KY, 5/2), Chicago (5/3), LA (5/5), Phoenix (5/6), Atlanta (5/30) and Toronto (6/3).
The FIFTY SHADES movie trilogy, which Ms. James co-produced, has grossed more than $1 billion.
Posted: April 16, 2019