Vintage to Reissue 1965 Bestselling Thriller NIGHT OF CAMP DAVID About an "Unhinged President"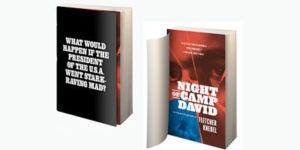 Fletcher Knebel's novel NIGHT OF CAMP DAVID was a radical look at the presidency in 1965, exploring what our nation's leaders would do if they came to discover that the president was unstable and unfit to continue in office. Fifty-three years later, this prescient novel that poses the question "What would happen if the President of the USA went stark-raving mad?" still resonates in America's discussion of national politics and problems that are all too real.
On November 20, Vintage will reissue NIGHT OF CAMP DAVID in paperback and as an eBook. The novel will also be available as an audio book from Random House Audio on the same date.
Anne Messitte, Publisher of Vintage Books: "We are eager to bring Fletcher Knebel's bestselling and highly entertaining novel back into print, as an exploration of ideas that are shockingly relevant. It's a book worthy of rediscovery—a must-read cautionary tale for our time."
In NIGHT OF CAMP DAVID, when U.S. President Mark Hollenbach begins taking Senator Jim MacVeagh into his confidence, the young senator knows that his star is on the rise. But then Hollenbach starts summoning MacVeagh to Camp David in the middle of the night. There, the president sits in the dark and rants about his enemies, unfurling insane theories about all the people he says are conspiring against him. They would do anything, President Hollenbach tells the stunned senator, to stop him from setting in motion the grand, unprecedented plans he has to make America a great world power once again. MacVeagh comes away from these meetings increasingly convinced that the man he once admired has lost his mind. But what can he do? Who can he tell? How can one man convince the highest powers in Washington that the president of the United States is dangerously unstable—before it's too late?
The Vintage reissue of NIGHT OF CAMP DAVID was covered in The New York Times last week. To read the feature, click here.
Posted: November 14, 2018