Virtual Cocktail Hour Features Denise Williams Discussing HOW TO FAIL AT FLIRTING via Zoom (2/19)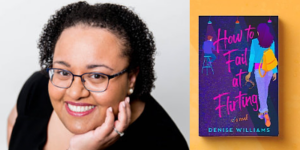 Enjoy a virtual cocktail hour with author Denise Williams as she discusses her new novel, HOW TO FAIL AT FLIRTING (Berkley),at a virtual event hosted by Dog Eared Books (Ames, IA) via Zoom on Friday, February 19 at 7:00 pm (ET).
Williams' HOW TO FAIL AT FLIRTING is about how one daring to-do list and a crash course in flirtation turn a Type A overachiever's world upside down. Smith's SIMMER DOWN, a PopSugar Must-Read for October, is a rollicking rom-com, in which two is the perfect number of cooks in the kitchen.
Denise Williams wrote her first book in the 2nd grade. I Hate You and its sequel, I Still Hate You, featured a tough, funny heroine, a quirky hero, witty banter, and a dragon. Minus the dragons, these are still the books she likes to write. After penning those early works, she finished second grade and eventually earned a PhD in education, going on to work in higher education. After growing up a military brat around the world and across the country, Denise now lives in Des Moines, Iowa with her husband, son, and two shih-tzus who think they own the house.
!! As a reminder, if you are posting to a personal or other non-PRH account you must include the hashtag #TeamPRH !!
Posted: February 17, 2021