Visiting a National Park? Check Out Author Amber Share's SUBPAR PARKS Virtual Event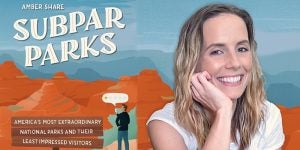 Amber Share, author of SUBPAR PARKS (Plume), will talk about America's most extraordinary national parks and their least impressed visitors at a virtual event hosted by Quail Ridge Books (Raleigh, NC) on Tuesday, July 13 at 8:00 pm (ET). To register, click here.
SUBPAR PARKS, both on the popular Instagram page and in this humorous, informative, and collectible book, combines two things that seem like they might not work together yet somehow harmonize perfectly: beautiful illustrations and informative, amusing text celebrating each national park paired with the one-star reviews disappointed tourists have left online. Equal parts humor and love for the national parks and the great outdoors, it's the perfect gift for anyone who loves to spend time outside as well as have a good read (and laugh) once they come indoors.
Amber Share is an illustrator and graphic designer based in Raleigh, North Carolina. She graduated from the University of Nebraska in 2010 with a degree in advertising and a minor in art. After several years as a professional graphic designer, she left her job in graphic design to pursue illustration full time. Her work has been featured in O Magazine, the Wall Street Journal, Boston Globe, Los Angeles Times, Outside.com, Climbing.com, Buzzfeed, Atlas Obscura, and more. As an avid hiker and backpacker, she spends a lot of time in local, state, and national parks, which inspired this project and this book.
!! As a reminder, if you are posting to a personal or other non-PRH account you must include the hashtag #TeamPRH !!
Posted: July 12, 2021