Vote for All Ways Black, a 2022 Webby Award Nominee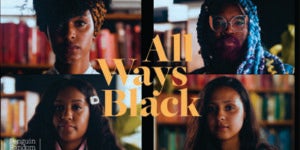 The Consumer Marketing team is thrilled to announce that "Introducing All Ways Black," the video that launched the paradigm-shifting platform last May, is a Webby Award nominee for Video – Diversity & Inclusion. The Webby is the leading international award honoring excellence on the Internet and presents two honors in every category – The Webby Award and The Webby People's Voice Awards.
Help us clinch the People's Voice Award by casting your vote before Thursday, April 21, here.
Introducing All Ways Black has been singled out as one of the five best in the world in its category – among the top 12% of the over 14,000 projects entered. Fellow nominees in the category include Hulu, PBS, and GLAAD.
So, vote early and often, and help us bring home the gold! For questions about this campaign or The Webby Awards, contact Carly Gorga.
Posted: April 8, 2022