---
Vote for Our "One Book One New York" Finalist: Fatima Farheen Mirza's A PLACE FOR US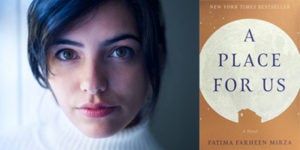 There is still time to vote for Fatima Farheen Mirza's A PLACE FOR US (SJP for Hogarth), our Penguin Random House finalist for the 2019 "One Book, One New York" campaign, the citywide initiative that brings book-loving New Yorkers together to read the same book at the same time. Throughout the month of April (deadline is April 30), you can cast your vote here to help determine the one book NYC will read together. To view all five of this year's "One Book, One New York" finalists, click here.
The publishers of each of the nominated books have donated a total of 2,500 copies to the 219 library branches in all five boroughs, and all five titles are also available in bookstores across New York City.
"One Book, One New York" is intended not only to encourage a sense of community among New Yorkers, but also to support the City's book publishing and bookselling industries. In recent years, both the publishing and bookselling industries have faced significant challenges. There are currently 55 independent bookstores and 8 Barnes and Noble bookstores in NYC. The "One Book, One New York" campaign recognizes how vital bookstores are in NYC neighborhoods, as they often serve as a meeting place for residents to come together and exchange ideas.
Posted: April 17, 2019