Wade Davis to Talk About His New Book MAGDALENA via BookPassage.com (9/20)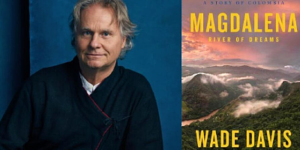 Wade Davis, whose most recent book, MAGDALENA (Knopf), brings to life the story of the great Río Magdalena, illuminating Colombia's complex past, present, and future, will engage  in a virtual conversation with Don George, an editor-at-large for National Geographic Traveler magazine, via BookPassage.com on Sunday, September 20 at 7:00 pm (ET). 
Travelers often become enchanted with the first country that captures their hearts and gives them license to be free. For Wade Davis, it was Colombia. Now in a masterly new book, Davis tells of his travels on the mighty Magdalena, the river that made possible the nation. Along the way, he finds a people who have overcome years of conflict precisely because of their character, informed by an enduring spirit of place, and a deep love of a land that is home to the greatest ecological and geographical diversity on the planet.
At once an absorbing adventure and an inspiring tale of hope and redemption, Magdalena gives readers a rare, kaleidoscopic picture of a nation on the verge of a new period of peace. Braiding together memoir, history, and journalism, Davis tells the story of the country's most magnificent river, and in doing so, tells the epic story of Colombia.
Davis is the author of twenty books, including One River, The Wayfinders, and Into the Silence, which won the 2012 Samuel Johnson prize, the top award for literary nonfiction in the English language. Explorer-in-Residence at the National Geographic Society from 1999 to 2013, he is currently Professor of Anthropology at the University of British Columbia. In 2016, he was made a Member of the Order of Canada. In 2018 he became an Honorary Citizen of Colombia.
!! As a reminder, if you are posting to a personal or other non-PRH account you must include the hashtag #TeamPRH !!
Posted: September 17, 2020