Watch a Preview of the Film Adaptation of Herman Koch's THE DINNER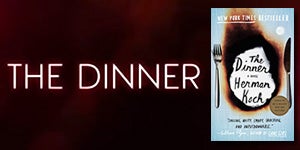 Based on Herman Koch's bestselling novel, THE DINNER, published by Hogarth, this upcoming cinematic thriller directed by Oren Moverman is a darkly suspenseful, highly controversial tale of two families struggling to make the hardest decision of their lives — all over the course of one meal. Starring Richard Gere, Rebecca Hall, Laura Linney and Steve Coogan, the film had its world premiere at the Berlin Film Festival on February 10 and is scheduled to be released on May 5 by The Orchard, a Sony Music Entertainment company.
Watch the trailer:
First published in the fall of 2013, THE DINNER was heralded as "a European GONE GIRL" byThe Wall Street Journal.  Skewering everything from parenting values to pretentious menus to political convictions, the narrative reveals the dark side of genteel society and asks what each of us would do in the face of unimaginable tragedy.
Posted: February 22, 2017