Watch a Random House Event, "Then and Now: The Fight for Reproductive Freedom"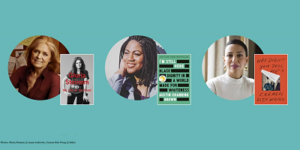 On June 7, 2022, Random House, in partnership with UnTextbooked, a podcast for the future brought to you by teen changemakers, hosted Then and Now: The Fight for Reproductive Freedom, a virtual, cross-generational conversation between activists and thought leaders in the women's rights space. During the event, Gloria Steinem, Austin Channing Brown and Carmen Rita Wong reflected on the history of this important movement—and empowered us now to pick up the torch—with young activist Sydne Clarke from UnTextbooked.
As we process the recent Supreme Court ruling and determine how to discuss its impact with our younger loved ones, we're looking to those who have been in this fight for decades for guidance. What have we learned from those who fought for reproductive freedom previously, and what will be different now?
A transfer of knowledge across generations can be our key right now to advancing understanding on differing views on the issue, helping today's students discern their stance, and collectively strengthening our civic participation.
A recording of the event can be viewed in the below video:
Posted: June 27, 2022