Watch New and Trending Penguin Random House Digital Video Productions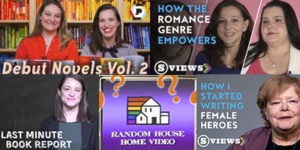 The Penguin Random House Digital Video team has been busy, creating a series of new, noteworthy and trending video productions. Ranging from how the romance genre empowers women to how author Tamora Pierce started writing female heroes to a deep dive into "conspiracies" surrounding the Random House Home Video division's animated logo from the '80s. Watch below:
Romance Writers on How the Genre Empowers Women
Romance authors reflect on how the genre empowers, represents, and includes. Featuring Chanel Cleeton, Kate Bateman, Shayla Black, Tamsen Parker, Sarina Bowen, and Milly Taiden.
Debut Novels, Volume 2 | Six Picks
Read it Forward editors Abbe and Emma share six more books from brand new authors.
Melissa Dahl Presents THE OUTSIDERS | Last Minute Book Report
After reading the book in 10 minutes, author Melissa Dahl (CRINGEWORTHY) gives a presentation on S. E. Hinton's THE OUTSIDERS.
Tamora Pierce on How She Started Writing Female Heroes
Author Tamora Pierce discusses the lack of female heroes in fantasy books when she was growing up, and the effect it had on her writing.
Conspiracy Revealed: The Random House Home Video Logo
The Random House Home Video division has been closed for almost 20 years, yet somehow its logo lives on. Take a deeper dive into the conspiracies surrounding this 80's animation.
Posted: March 27, 2018