Watch Now: The Brand-New CRAWDADS Movie Preview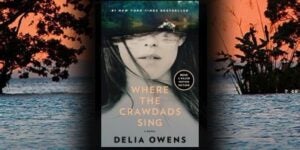 With the countdown to the debut of the WHERE THE CRAWDADS SING film version two months away, Sony Pictures has just released its second coming-attractions preview online and to run on theater screens ahead of Top Gun: Maverick, and other new releases.
The film, starring Daisy Edgar-Jones, goes nationwide July 15. Putnam publishes two movie tie-in editions of Delia Owens's twelve-million-copy seller June 28.
The first film trailer, released in March, along with Taylor Swift's Instagram of her song for the movie, propelled the trade paperback to the upper rankings of the national bestseller lists. And it had viewers riveted to this film dialogue, from the book:
"Way up yonder where the crawdads sing, the marsh knows one thing…Every creature does what it must to survive."
To watch the new WHERE THE CRAWDADS SING trailer, click on the play arrow in the video screen below:

Posted: May 19, 2022