Watch Penguin Random House's #MannequinChallenge Video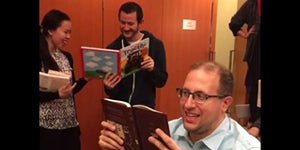 The Penguin Random House digital video team is helping to spread the latest viral video meme, #MannequinChallenge. A group of colleagues posed frozen in place reading books in the 2nd floor club room at 1745 Broadway last Friday, as one camera-person roamed and filmed, capturing the scene. The footage has been posted on Penguin Random House's Facebook page and Twitter feed. Watch our #MannequinChallenge video here:
Last week The New York Times reported on this phenomenon, which has been compared to the Ice Bucket Challenge, the Harlem Shake and Planking, in the article Mannequin Challenge Is the New Viral Video Sensation You Probably Can't Avoid: "Groups of people are gathering and freezing themselves in place, often in elaborate poses and scenarios, as one camera-toting person walks through the scene to zoom in on the details. As is often the case, teenagers are leading the way. Many of the videos are set to the song 'Black Beatles' by Rae Sremmurd, making it the unofficial anthem of the meme. The rap duo recorded its own version of the challenge at a recent concert."
More #MannequinChallenge videos are popping up everywhere, including on the Fox N.F.L. Sunday pregame show, college football's S.E.C. Network and on Penguin Random House author Giada De Laurentiis' Twitter feed as Family night dinner w/ a side of…. #mannequinchallenge.
Posted: November 14, 2016