Watch REDEEMING LOVE Trailer: Movie Based on Francine Rivers' Multnomah Bestseller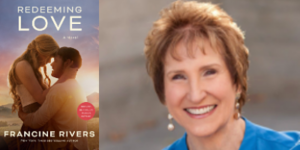 Francine Rivers' REDEEMING LOVE, published by Multnomah, has been adapted into a major motion picture that will be released and distributed by Universal Pictures in U.S. and Canadian theaters on January 21, 2022. A powerful and timeless love story that takes place against the backdrop of the California Gold Rush of 1850, REDEEMING LOVE has been Multnomah's best performing fiction title, regularly hitting bestseller lists for more than 15 years. The movie tie-in edition will be published on November 23, 2021. Rivers, the New York Times bestselling author of over 30 books, worked with director D.J. Caruso on the screenplay to ensure the beloved story stayed true to its roots.
REDEEMING LOVE centers on Angel (played by Abigail Cowen, whose credits include Fate: The Winx Saga and Sabrina), who was sold into prostitution as a child. She has survived through hatred and self-loathing, until she meets Michael Hosea (portrayed by Tom Lewis, Gentleman Jack) and discovers there is no brokenness that love can't heal. The story reflects the redemptive power of unconditional and sacrificial love with characters and circumstances relevant to the contemporary world.
"I fell in love with the characters in this story after my wife introduced me to the novel," said D.J. Caruso. "It presented me with a rich tapestry of complex characters and outstanding visual opportunities, all wrapped in an epic love story that transcends generations."
To watch the REDEEMING LOVE trailer, click on the arrow in the screen below.

Posted: October 25, 2021