Watch the Trailer: CRAZY RICH ASIANS Film Adaptation Coming to the Big Screen on August 15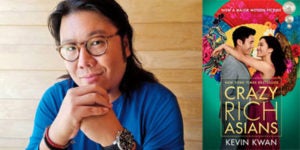 The countdown continues: the film adaptation of Kevin Kwan's CRAZY RICH ASIANS (Vintage), which is currently #1 on The New York Times bestseller list, opens in theaters nationwide on August 15. If ever a book was made for the big screen, it is CRAZY RICH ASIANS: When New Yorker Rachel Chu agrees to spend the summer in Singapore with her boyfriend, Nicholas Young, she envisions a humble family home and quality time with the man she hopes to marry. But Nick has failed to give his girlfriend a few key details. One, that his childhood home looks like a palace; two, that he grew up riding in more private planes than cars; and three, that he just happens to be the country's most eligible bachelor.
Kwan served as an executive producer on the film, and makes a cameo in the montage where the gossip of Nick and Rachel's imminent visit goes viral. He consulted on myriad details from character to costumes, locations and design, opened up his private family albums to inspire the design teams and even put the filmmakers in touch with a private watch collector who lent the production a prized high-end timepiece that arrived with its own security escort. "He was the best creative partner," director Jon Chu attests.
Regarding the script, though, Kwan was strictly hands-off, stating, "I was too close to it. So, we brought in these amazing writers, Peter Chiarelli and Adele Lim. I wanted to give them absolute freedom to go in and take out the story that would work best for the movie. Between their vision and Jon's, they really supercharged it. It's one thing to describe a scene when you have 30 pages to create this world, but, in a movie, you have a split second. People respond immediately."
Kwan's involvement in the process began with producers Nina Jacobson and Brad Simpson of Color Force and John Penotti of Ivanhoe Pictures, who were galvanized by the story while it was still in galleys. The author, in turn, was taken by what he recalls as "their passion and commitment. I really trusted this team. I said, 'Go for it, as long as it retains the DNA of my book,' and I think we've done that, in spades."
CRAZY RICH ASIANS has spent a total of 14 weeks on The New York Times bestseller list, currently at #1. Kwan will be going on a post-movie release author tour in September, including stops in Atlanta, GA; Coral Gables, FL; Pasadena, CA; La Jolla, CA; and Palo Alto, CA.
Watch the trailer:
Posted: August 8, 2018