Watch Trailer for THE ALIENIST TV Adaptation, Premiering Tonight on TNT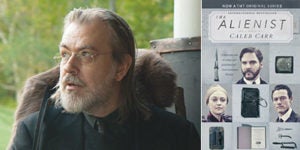 The wait is over at last for a filmed adaptation of the classic historical thriller, THE ALIENIST by Caleb Carr. Tonight, at 9:00 pm (ET/PT), TNT Network premieres the first episode of the much-anticipated mini-series based on the multi-million-copy selling novel.  
When THE ALIENIST was first published by Random House in 1994, the book was a major phenomenon, spending six months on the New York Times bestseller list.  Fast-paced and riveting, infused with historical detail, this twisty tale conjures up Gilded Age Manhattan with its tenements and mansions, corrupt cops and flamboyant gangsters, shining opera houses and seamy gin mills.  It is an era in which questioning society's belief that all killers are born, not made, could have unexpected and fatal consequences.  Set in 1896 New York, amidst a backdrop of vast wealth, extreme poverty and technological innovation, this psychological thriller stars Daniel Brühl (Rush), Luke Evans (The Girl on The Train), Dakota Fanning (American Pastoral) and Brian Geraghty (The Hurt Locker) and was directed by Jakob Verbruggen.
Turner Broadcasting is enormously proud of this programming, not only the most expensive filmed series in the history of the network, but also its most heavily promoted—which should bode well for Random House, which has 270,000 copies in print of the original and TV tie-in paperback edition.
Watch THE ALIENIST Series Trailer: 
Posted: January 22, 2018