WATCH VIDEO: Penguin Random House Live at BookExpo and BookCon 2017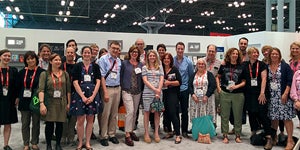 Dozens of our authors, editors and publishers basked in the spotlight at this year's BookExpo (May 31 – June 2) and BookCon (June 3 ­­– 4), at New York's Jacob Javits Center. From the Expo's Special Events Hall to its show-floor stages to the always-jammed Penguin Random House exhibition booth, there was constant activity and engagement. A non-stop schedule of book signings featured more than 60 authors from our adult and children's imprints and divisions, including John Grisham, R.J. Palacio, Chelsea Clinton, Sarah Dessen, Nicola Yoon and Mary Pope Osbourne. Our corporate services, sales, marketing and publicity teams kept the long lines moving, while hundreds of signed books flowed into the hands of convention attendees.
At the three SRO BookExpo "Buzz Panels," Penguin Random House editors and publishers spoke eloquently about highly anticipated upcoming titles on their respective lists they are passionate about: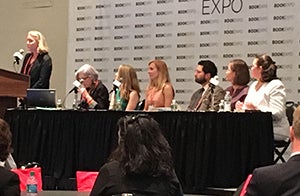 At the Adult Editors Buzz Panel, Jennifer Jackson, Senior Editor, Alfred A. Knopf, talked of how the quest for fertility in Ayobami Adebayo's STAY WITH ME (Knopf, August 2017),  "a Handmaid's Tale set in Nigeria," becomes all-consuming while "the female spirit stays vibrant, alive, and white hot." Sarah McGrath, Vice President, Editor in Chief, Riverhead, predicted that Gabriel Tallent's debut novel, MY ABSOLUTE DARLING (Riverhead, August 2017) "will be held in readers' hearts for generations and renew your faith in the transformative power of reading," then quoted from an e-mail she received from Stephen King: "The word 'masterpiece' has been cheapened by too many blurbs, but MY ABSOLUTE DARLING absolutely is one." Sally Kim, Editorial Director, G. P. Putnam's Sons, admitted that she is a "sucker for adult sibling stories" before revealing that in Chloe Benjamin's THE IMMORTALISTS (Putnam, January 2018), "a love story of family," "the Gold children" are told the dates of their deaths by a Lower Eastside fortune teller and how the book "probes the line between destiny and choice, reality and illusion."
At the Young Adult Editors' Buzz, Ben Schrank, President & Publisher, Razorbill, shared insights into Tochi Onyebuchi's BEASTS MADE OF NIGHT (Razorbill, October 2017), "packed with dark magic and fantasy adventures that explore the true meaning of justice and guilt." Phoebe Yeh, Vice President & Publisher, Crown Books for Young Readers, looked at how Nic Stone's DEAR MARTIN (Crown Books for Young Readers, October 2017) "tackles American race relations" and "how the teachings of Dr. Martin Luther King Jr. hold up in the modern world."
At the Middle Grade Editors' Buzz 2017, Nancy Siscoe, Senior Executive Editor, Knopf Books for Young Readers, talked about the inspiration behind David Barclay Moore's THE STARS BENEATH OUR FEET (Knopf Books for Young Readers, September 2017), "a powerful portrait of a boy teetering on the edge—of adolescence, of grief, of violence," and how he "finds a way forward to build a life with firm foundations and open doors."
The Adult Book & Author Breakfast has hosted by Whitney Cummings, author of I'M FINE…AND OTHER LIES (Putnam, October 2017), who said, "I wanted to write a book that is about removing the shame from being human and making mistakes. It's okay to say, 'I'm not doing so well.'" Captain Scott Kelly, author of ENDURANCE: My Year in Space (Knopf, October 2017), a featured speaker, was introduced with a short film, after which Kelly said, "It's great to be here. Actually after being in space for a year, it's great to be anywhere with gravity." He noted the influence of Tom Wolfe's The Right Stuff: "I decided right then and there that I was going to try to be like these guys from this book…. I was encouraged and I was motivated by something I read, and it was life-changing for me."
Several Penguin Random House authors' BookCon events drew large crowds, notably: Margaret Atwood, author of THE HANDMAID'S TALE (Anchor) and Bruce Miller, the series' showrunner for Hulu (which adapted The Handmaid's Tale for television), who discussed the adaptation of the book for the small screen series, already renewed for a second season. Watch a video of the discussion produced by our Penguin Random House Digital Video team below.
The "Bestseller to Blockbuster: Authors Talk About the Book to Film Adaptation Process" panel featured R. J. Palacio, author of WONDER (Knopf Books for Young Readers) and Nicola Yoon, author of EVERYTHING, EVERYTHING (Delacorte Press), sharing details about their involvement in the process for adapting their books into film productions.  And Sarah Dessen, author of ONCE AND FOR ALL (Listening Library, June 2017), Nicola Yoon, author THE SUN IS ALSO A STAR (Listening Library) and Holly Black, author with Cassandra Clare, of THE SILVER MASK (Listening Library, August 2017) were the stars of the "I'll Take Audiobooks for $400, Please," an Audience vs. Author Game Show, involving a packed room with the fun proceedings.
Check back and view more of Penguin Random House Digital Video's BookCon productions here.
Posted: June 6, 2017