Watch "Why I Vote" Video Messages From PRH Authors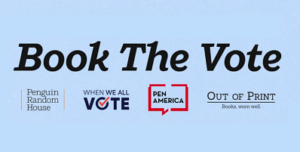 Book the Vote, a nonpartisan initiative to protect free speech and ensure every voter's right to participate in elections, was launched by Penguin Random House, PEN America, Out of Print, and When We All Vote. To further enhance this effort, PRH enlisted bestselling authors, including Deepak Chopra, Elaine Weiss, and Kyle Creek, to make sense of America's history and politics through engaging and informative videos based on their books. "How America Works" episodes – The Right to Vote, Voting for the President, and the Electoral College – have been released throughout the month on Book the Vote and Instagram, and supplemented on social with "Why I Vote" videos featuring 20+ Penguin Random House authors.
We've pulled these "Why I Vote" videos together to create a special video message from our authors, including Jasmine Guillory, Jeff Tweedy, Jacob Tobia, Chelsea Clinton, and more. They share why they're voting this year. We hope you'll join them in making your voice heard when you get out and VOTE!
Posted: October 28, 2020