WaterBrook Acquires New Book by Tim Tebow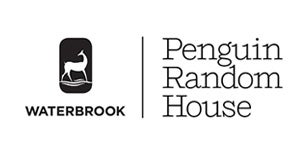 Tim Tebow, former NFL quarterback, Heisman Trophy winner and popular sports broadcaster, has reached an agreement with WaterBrook, an imprint of the Crown Publishing Group, to author a new book scheduled for publication on October 25, 2016. SHAKEN: Discovering Your True Identity in the Midst of Life's Storms combines never-before-told, personal stories from Tebow's football experience and life with biblical teaching on anchoring identity and self-worth. As part of the agreement, WaterBrook will create a companion video Bible study and other products.
The book deal was announced by Tina Constable, Senior Vice President, WaterBrook. Alexander Field, Vice President, Publisher, WaterBrook, acquired world rights to the work in print and digital formats. Bruce Nygren, Senior Editor, and Andrew Stoddard, Editor, will serve as editors for the products in the deal.
The very public highs and lows of Tebow's college and professional football career have given him a unique perspective on what it means to maintain a sense of self when your dreams do not go as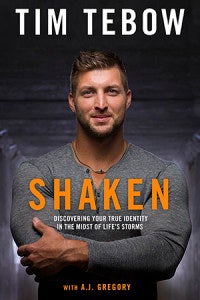 planned. With compelling honesty, Tebow writes about how others have tried to define him by his circumstances and how, through it all, he has used these opportunities to grow in the understanding that identity comes from God alone.
"I am so excited about this book," said Tebow. "I have the opportunity to share about some highs. But I also have the opportunity to share about some lows, and be vulnerable, and pull back the curtain a little bit. I will be able to give people a glimpse at what happens when you fall short. What happens when you don't reach your dreams? What do you hold onto? Who do you hold onto?"
Alex Field said, "Tim has such a profound and inspiring message for anyone who has faced any sort of disappointment in their lives—which is every one of us, Because of that, we're thrilled to launch this new work with Tim this fall. He will share about how he faced everything in his career all while remaining anchored in God. We know this book is going to encourage many, many people!"
Tebow is a two-time NCAA college football national champion and Heisman Trophy winner and was a first round NFL draft pick. In the three years since he departed from the NFL, Tebow has continued to have a prominent public profile.   In February 2016, The Tim Tebow Foundation, along with 200 churches across 48 states and in seven countries, hosted "A Night to Shine" giving 32,000 people with special needs and 70,000 volunteers an amazing prom night experience.  He is co-hosting the second season of the FOX program Home Freewith home renovation TV Star Mike Holmes (Holmes on Homes®), starting June 16, 2016. In addition, he is a college football analyst for the SEC Network, which launched in August 2014.
Posted: May 19, 2016