WaterBrook Author LaTasha Morrison Receiving Up to $1 Million for "Be the Bridge," Joins Facebook Community Leadership Program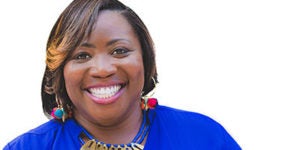 LaTasha Morrison, author of BE THE BRIDGE: Moving Toward Racial Reconciliation, to be published by WaterBrook next fall (10/15/19), and founder of the non-profit Be the Bridge, an organization that focuses on racial reconciliation, was recently selected as a Resident in Facebook's Community Leadership Program. LaTasha is one of five Residents worldwide, the only one from North America, in this newly-created program, which comes with up to $1 million in grant money for Be the Bridge.
Laura Barker, Vice President, Editor-in-Chief, WaterBrook & Multnomah, acquired and edited BE THE BRIDGE, and comments, "Our racially divided culture is in desperate need of reconciliation and healing, but we can't get to restoration without first acknowledging the effects of our painful shared history. LaTasha has an amazing way of helping us face those hard truths while pointing us toward hope. Her writing rings with conviction and grace, showing us the transformation that is possible when we recognize and celebrate the image of God in one another, press into difficult conversations with humility, and use every opportunity to break down systemic injustice and fight for unity."
In this special "Meet Our Author" Igloo interview, LaTasha shares her thoughts and feelings about her work with Be the Bridge, how the Facebook program grant resources will impact her organization, and a preview of her upcoming book for WaterBrook.
What was your reaction when you first received this wonderful news from Facebook?
I was completely in shock and awe about the news from Facebook. I had no idea our usage of Facebook as a platform would lead to this incredible opportunity. Our efforts to do our part to make a difference in the world are paying off tremendously. Our conversation has grown from sixty-nine people to over twenty-one thousand engaging in healthy and healing conversations on the tensions of race relations.
How will it impact the ongoing mission of your Be the Bridge organization?
Be the Bridge didn't start with investors or seed money. This organization started with nothing more than hope and possibility. We developed a process to take those interested on a journey to reconciliation. It begins with understanding what is broken historically and systemically and repairing the barriers that keep us from truly knowing and empathizing with one another.
Although our impact broadened quickly, we didn't have the resources needed to deepen our work or hire support. A year ago, I left my full-time job to devote myself to Be the Bridge without a salary. I took the risk because I believed the heavy lifting of racial justice needed to start with proximity and relationship.
Like any non-profit, Be the Bridge is supported through donors and the monetizing of resources, but our work isn't as tangible as that of some other organizations. Our work is about lifestyle change, about educating others on the brokenness in our nation and the need for justice and repair. We deal with a difficult topic that has divided this country for centuries.
The grant resources allow us not only to continue our mission but also to expand to include the next generation, reaching children, youth, and college age participants with this vision for having vital conversations about racial solidarity. It allows us to have the necessary infrastructure to support our mission, vision and volunteers. This is just the beginning, the start-up phase for Be the Bridge. Our vision is big. We have the opportunity to be one part of the solution to a historically complex issue, to prepare people to do the work of racial justice. I'm incredibly grateful for this journey and for witnessing the transformation in others doing the hard work.
What advance preview of your 2019 book are you able to provide?
BE THE BRIDGE presents a compelling vision of what it means for each of us to become bridge-builders—people who are committed to the hard work of acknowledging the pain of our shared history, lamenting the reality of racial injustice, and actively pursuing justice and reconciliation with one another. Highlighting historical events that shape our present reality, along with profiles of everyday people who are engaged in tearing down the walls between us, BE THE BRIDGE serves as an on-ramp to help individuals and groups become catalysts for justice, healing, and cultural transformation.
Posted: December 13, 2018