WaterBrook's FIND YOUR PEOPLE Wins the 2023 Christian Book of the Year Award®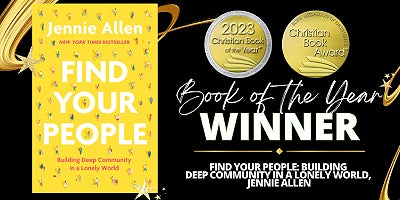 When Jennie Allen's FIND YOUR PEOPLE  (WaterBrook) released in 2022, it became an instant New York Times bestseller and appeared on bestseller lists for USA Today, Wall Street Journal, Publishers Weekly and Evangelical Christian Publishers Association.
Now, it's been awarded the highly-coveted 2023 Christian Book of the Year Award®!  Presented annually since 1978, the Christian Book Award® program honors the "best of the year" in Christian literature.  This year, the awards took place in Nashville, Tennessee on May 9 and winners were selected from 72 finalists.
In FIND YOUR PEOPLE, Allen explores how we can nurture rich, life-giving friendships in a world that is moving faster, automating more, and delivering everything but meaningful relationships to our front doors. Full of real-life stories, science-based insights, practical ideas for building deep community, and a straightforward look at what to do when relationships get messy, FIND YOUR PEOPLE invites you to leave behind your loneliness and experience the power of friendship as it was meant to be.
Laura Barker, VP and Publisher for WaterBrook and Multnomah, and Jennie's editor, said "Jennie Allen is a terrific publishing partner, and it is truly a joy to see her work recognized with the ECPA Book of the Year Award. Jennie consistently identifies and addresses vital and timely topics at the intersection of faith and wellness, in this case addressing the importance of healthy community and friendship amid a culture marked by isolation and independence. Our entire WaterBrook team is grateful for this honor and for the privilege of bringing attention to Jennie's incredible work."
FIND YOUR PEOPLE will release in paperback this August. It is Jennie's third book with WaterBrook. She has also authored the bestsellers GET OUT OF YOUR HEAD, which sold over one million copies, and NOTHING TO PROVE.
About Jennie Allen
Jennie Allen is the founder and visionary of IF:Gathering as well as a New York Times bestselling author. A frequent speaker at large national events and conferences, she is a passionate leader, following God's call on her life to catalyze a generation to live what they believe. Jennie earned a master's in biblical studies from Dallas Theological Seminary. She and her husband, Zac, have four children.
Posted: May 16, 2023