Weekend Reads: Summer Mysteries & Thrillers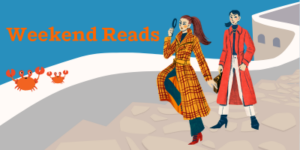 This installment of Weekend Reads is brought to you by Chelsea Kaneshiro, Corporate Communications Intern. 
When you think of a summer book, what comes to mind? Chances are it isn't a mystery or thriller, but this week's list of titles could surprise you. These novels effortlessly combine a wicked sense of humor with a thrilling plot making for refreshing poolside reads. 
One of my all-time favorite books is Jesse Q. Sutanto's DIAL A FOR AUNTIES (Berkley), which was the inspiration behind this theme. The genius storyline is a rom com meets murder and hits home for anyone with nosy family members. I think this genre has become so much more than dark suspense, but full of well-rounded stories that are beautifully written and even… funny. 
Finish off the summer by reading one of these page turners! 
GOOD RICH PEOPLE by Eliza Jane Brazier (Berkley) 
A destitute woman deceives her way into the guesthouse of a Hollywood Hills mansion and inadvertently becomes a target in the twisted game of the wealthy family upstairs in the next intoxicating novel from Eliza Jane Brazier. 
DEATH BY BUBBLE TEA by Jennifer J. Chow (Berkley) 
Two cousins who start a food stall at their local night market get a serving of murder in this first novel of a delicious new cozy mystery series by Jennifer J. Chow, bestselling author of MIMI LEE GETS A CLUE. 
ONE OF THE GIRLS by Lucy Clarke (Putnam) 
A twisty psychological thriller from internationally bestselling author Lucy Clarke, ONE OF THE GIRLS is the delicious story of a bachelorette trip on a stunning Greek island… that ends in murder. 
A DEADLY INSIDE SCOOP by Abby Collette (Berkley) 
"Fun! Fresh! Fabulous! Abby Collette has crafted a delicious addition to the cozy mystery world with her superbly written A DEADLY INSIDE SCOOP. Delightful characters and a puzzler of a plot kept me turning pages until the very end. I can't wait for my next visit to the Crewse Creamery for another decadent taste."—New York Times bestselling author Jenn McKinlay 
GONE GIRL by Gillian Flynn (Ballantine Books) 
"An irresistible summer thriller with a twisting plot worthy of Alfred Hitchcock. Burrowing deep into the murkiest corners of the human psyche, this delectable summer read will give you the creeps and keep you on edge until the last page."—People (four stars)  
ARSENIC AND ADOBO by Mia P. Manansala (Berkley) 
The first book in a new culinary cozy series full of sharp humor and delectable dishes—one that might just be killer. 
THE QUIET TENANT by Clémence Michallon (Ballantine Books) 
A pulse-pounding psychological thriller about a serial killer narrated by those closest to him: his 13-year-old daughter, his girlfriend—and the one victim he has spared. 
THE MAID by Nita Prose (Ballantine Books) 
"A cozy mystery to take along on vacation… a lighthearted mystery that shines as Molly evolves and learns to connect."—The Washington Post 
Posted: August 10, 2023